Our lives are highly dependent on the internet. The low cost and high speed of the communications it provides make it an integral and critical component that lies at the very foundation of successful government, business, and individual operations. Dynamic and inter-connected environments provide various important functions that have the power to improve communications, protect personal, confidential, and other data, and provide oversight and control for critical systems and business processes, all while stimulating overall competitiveness. In this environment, cybersecurity should no longer be considered separate from general privacy, health, and economic risks. And as reliance on the internet continues to grow, cyber threats – also on the increase – can spread across the globe in minutes disregarding regional, national, or other boundaries.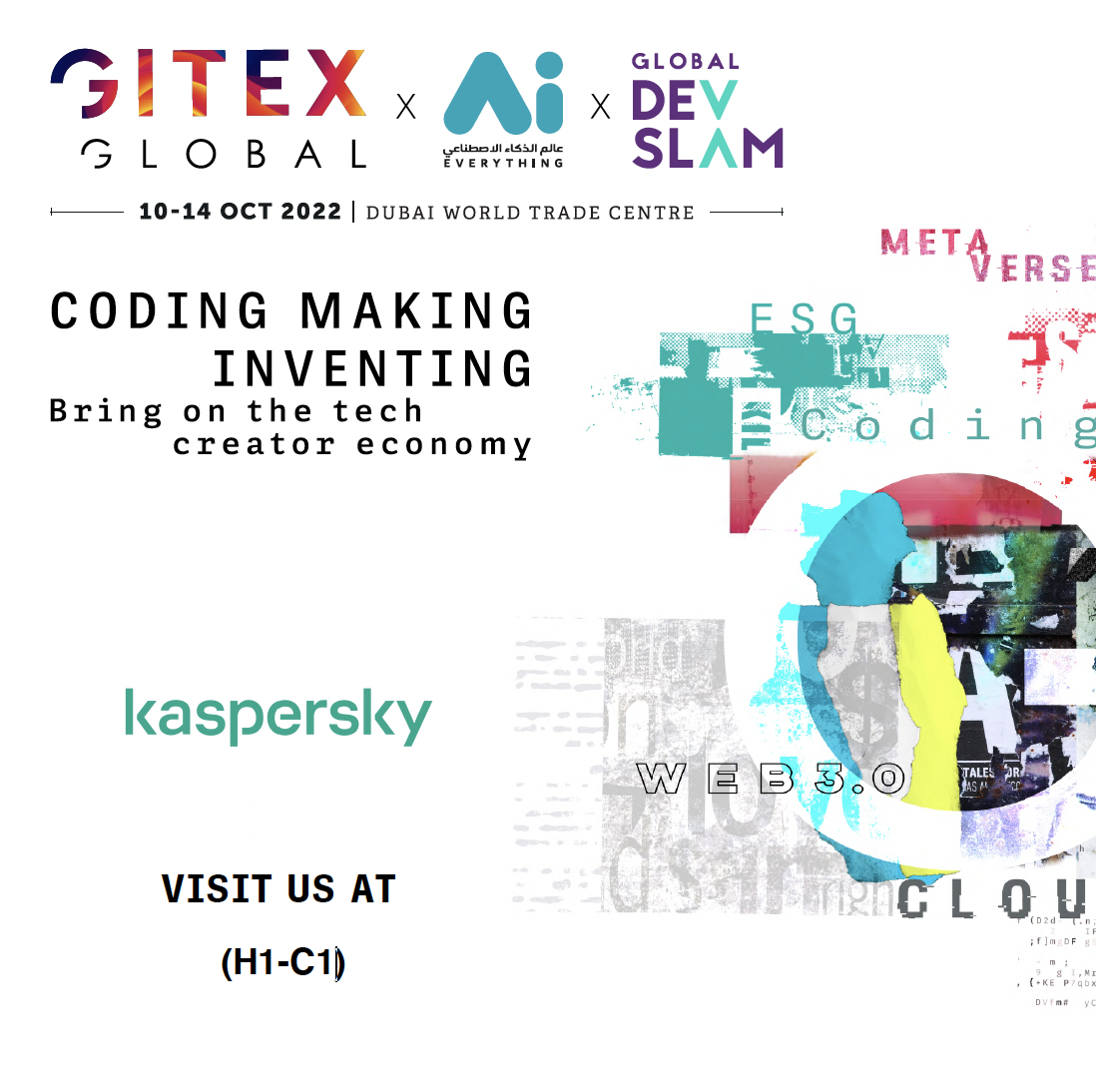 We sat down with Kaspersky's CEO and asked him a few questions about GITEX 2022 and what it means for Kaspersky.
Kaspersky has been always present at GITEX since the very start, why do you consider GITEX one of the most important events in the cybersecurity scene?
Indeed, GITEX is one of the most influential global events for the whole tech industry. It's also a great opportunity for us to meet world-renowned experts, as well as our partners and customers. And of course, to share ideas about the future of the digital world we're living in.
What is Kaspersky bringing this year to GITEX?
We're bringing our best products, expertise, and some of the latest innovations!
Among them: our new b2c product portfolio, solutions for the Enterprise segment, our own immune KasperskyOS-based products, such as the new Kaspersky Secure Remote Workspace – KSRW (a solution for building a managed and functional infrastructure of thin clients), and IoT Secure Gateway (KISG) for building reliable and functional IoT systems.
So stay tuned! And if you're in Dubai next week – you're more than welcome to drop by our booth at GITEX – Hall 1, #H1-C1.
Cyber Immunity is a term we hear a lot at Kaspersky events, why do you think it's the future of cyber security? How do you see the future of cyber security and technology in the region?
In 2021, according to our KSN data, we were collecting more than 380,000 new unique malicious files per day, and this amount is constantly growing. And although most of these malicious files are easy to detect, some are made by mature cybercriminals (whose numbers are constantly increasing too).
This year most META-region countries saw a huge increase in the number of attacks related to data loss threats – i.e., phishing and scam/social engineering. On top of that, the region has always been a hotbed of APT attacks, with geopolitics the main driver for that.
Thus, we can expect that moving forward – let's say in the upcoming decade – cybercriminals' attacks will continue to grow exponentially in both sophistication and volume. Thus, the problem of malware is not expected to be fully solved any time soon.
Nevertheless, we can drastically mitigate the risks and consequences of cyber threats, which are an inevitable part of the digital era we're living in. In the evolving threat landscape, we believe that the concept of traditional cybersecurity will soon become obsolete. This is why a new approach is required to better counter cyber threats.
And I believe that the most efficient solution to this challenge is a security-by-design approach, or 'Cyber Immunity', i.e., the inclusion of security mechanisms from the very first – design – stage of a device, so that the cost of a successful attack is always greater than any potential benefit cybercriminals may gain from an attack's potential success. Thus, this implies that the risks posed by entire classes of cyberattacks will be eliminated: they can no longer affect a system's ability to execute its functions.
 More and more GTI centers are being opened around the globe, will we see a center in META region soon?
We are a global company and we do our best to ensure that Transparency Centers will at least be present in all key regions for our customers and partners.
In fact, since 2018, we've opened nine Transparency Centers in various regions. And in each particular case, we follow the respective market demands and requests from our customers. We'll continue to monitor closely for opportunities to launch new Centers in other regions.
What makes the META region unique, through your travels you have been to almost all of the Middle Eastern countries. What were some of your favorite places and activities?
I like traveling to the META region, and indeed, I do have quite a few favorite places on my list. If you are curious, feel free to check out my blog – particularly my Top-100 and its Middle East section ).
It often comes to the UAE several times a year – be it for business meetings and events or for vacations with the family. And I have to say that last year I had quite an unusual and somewhat mind-blowing experience when I visited my very first World Expo in Dubai. A 430+ hectare territory, 190+ countries, impressively futuristic buildings, and everything just so top-notch there. At the beginning my impressions were mixed, but after all, I really enjoyed it… except for the lines 😊.