SOLUTION
Kaspersky for Security Operations Center
Proven intelligence. Guided defense.
Overview
To fight modern global cyberthreats, it's not enough to just build a Security Operations Center (SOC) in the conventional sense – you need a SOC that is equipped with the technologies, security intelligence and knowledge that empower it to adapt to ongoing challenges in a changing threat environment. With over two decades of constant threat research, leading protection technologies, recognized expertise and proven experience in complex cybersecurity projects, Kaspersky powers your SOC at every level for greater efficiency in fighting increasingly sophisticated threats.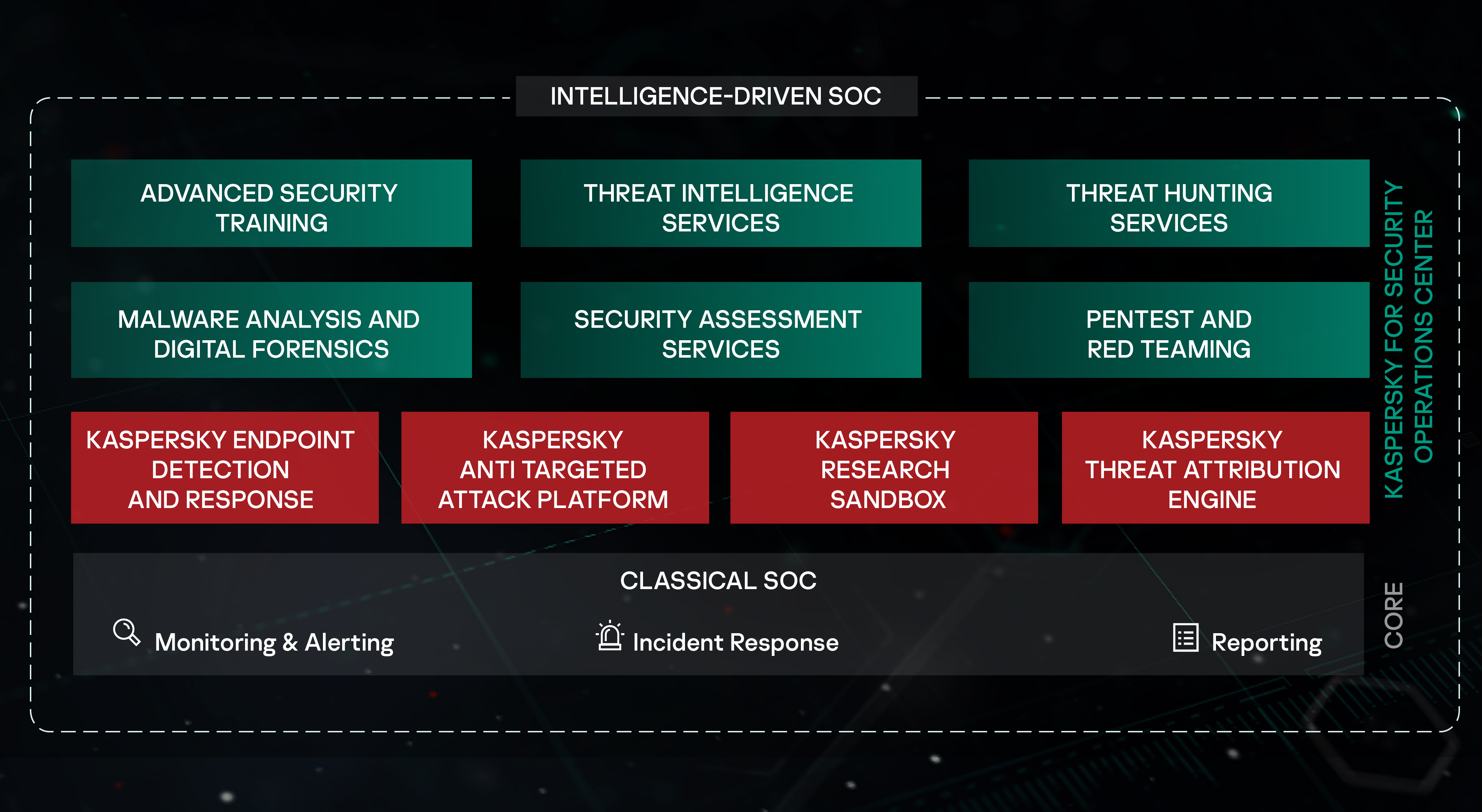 Advanced Defense Technologies
Technologies based on leading security intelligence and advanced machine learning to help your security team discover, identify and successfully deal with complex attacks

Global Threat Intelligence
Immediately actionable information providing invaluable insights and context, available in a range of formats and delivery methods

Threat
Hunting
Real-time detection of both new and existing cybercriminal, cyber-espionage and state-sponsored campaigns targeting your critical information systems

Cybersecurity Training
Security training programs designed to help grow your organization's in-house expertise in advanced cybersecurity topics

Malware Analysis and Digital Forensics
Access high-level expertise to understand the behavior and functionality of specific malware samples, reveal a complete picture of an incident and effectively apply lessons learned

Incident
Response
Knowledgeable specialists, armed with extensive practical experience of fighting cyberthreats, are at your service to quickly identify, isolate and block any malicious activity

Security Assessment
Expert-level security analysis and cutting-edge research working together to test information systems, regardless of complexity, in real-world environments

Penetration Testing and Red Teaming
Threat intelligence-driven practical demonstration of possible attack scenarios to assess cuurrent incident preparedeness and existing defensive capabilties
Let's Start the Conversation and talk to one of our experts about how True Cybersecurity could inform your corporate security strategy, please get in touch.