Product
Kaspersky Security for Mail Server
Proven multi-layered protection against mail-based attacks
The Product
Email is the number one vector used by cybercriminals to penetrate and attack enterprise IT systems.
Kaspersky Security for Mail Server uses multiple security layers based on machine learning and leveraging global threat intelligence data to detect and block email-borne cyberthreats. It is effective against malware and ransomware, and protects against spam, phishing and BEC attacks..Based on award-winning protection technologies, it supports a broad range of emailing platforms and architectures, making it a perfect fit for diversified enterprises with complex structures and those undertaking a cloud transformation process.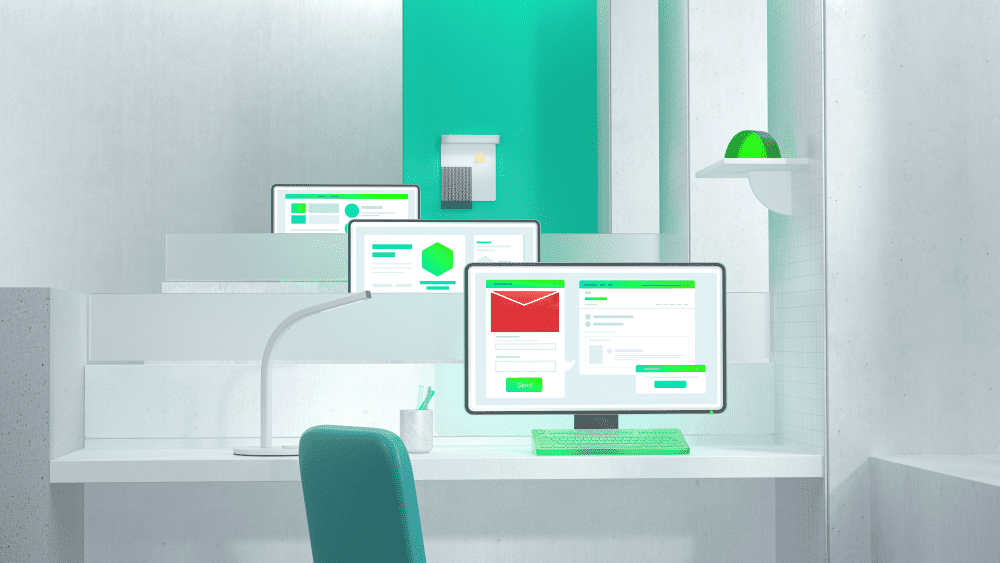 Protection for mail servers
Kaspersky Security for Mail Server protects mail on the latest versions of all major emailing platforms, including Microsoft Exchange / Exchange Online (a part of MS 365) and Linux-based servers.

Multi-layered phishing protection
The complex, deep learning-powered phishing protection leverages the latest data science and applied linguistics to detect social engineering-based attacks – including sophisticated Business Email Compromise (BEC)

Intellectual spam filtering
Intelligent, cloud-assisted spam filtering for Microsoft Exchange/Exchange Online and Linux-based mail servers works in real time to significantly reduce traffic load from unwanted messages

Risk reduction and compliance upholding
Limiting transfers of particular file types and identifying confidential and sensitive information in mail traffic helps reduce both security and legal risks. You can set up filters or run on-demand searches across corporate mailboxes in order to discover violations and gain visibility into your email data, helping you meet your compliance goals.
Suitable For
This solution is particularly well suited to addressing the security requirements, concerns and constraints of these enterprise sectors.
Az Sint-Jan public hospital
AZ Sint-Jan offers innovative, advanced healthcare services. Digitization of patient care places high demands on a hospital's ICT environment. Employees must have rapid access to the right data and at the same time, security of both the information and the network must be assured.
In Use
State-of-the-art email threat protection

Real-time and on-demand scanning filters out all types of malicious objects including malware, ransomware, and miners - as well as malicious and fraudulent URLs and threat-related IP addresses.
Machine learning, human expertise and global threat intelligence data combine to deliver proven high detection levels – without losing any valuable communications due to false positives.
Our multi-layered, cross-correlative approach ensures that even the most sophisticated and obfuscated malware won't penetrate your corporate IT infrastructure via email.

Anti-phishing, anti-spam, anti-BEC

Neural network-based analysis supported by real-time cloud-based URL checking protects against even the most convincing email phishing – including highly focused cases of Business Email Compromise
Machine learning models facilitate anti-spam detection, while specialized re-checking algorithms minimize time- and resource-wasting false positives
Authenticated email management helps protect against scams, Critical protocols such as SPF/DKIM/DMARC are leveraged in combination with proprietary technologies to fully ensure correct identification of legitimate mail and avoid false positives.
Applied linguistics-based algorithms are used for textual analysis to discern even the most dangerous BEC scenarios – such as those involving email account takeover.

The Wider Picture – Integration and Flexibility

Seamless integration with the Kaspersky Anti Targeted Attack Platform enriches,e Extended Detection & Response capabilities with automated email gateway-level responses to complex threats.
Support for multiple platforms and deployment architectures – including on-premises and cloud-hosted (Microsoft Exchange Online)NEW ensures seamless integration with a multitude of business scenarios
24/7
Premium Support
Professional help is available whenever you need it. Operating in more than 200 countries, from 34 offices worldwide, we have you covered 24/7/365. Take advantage of our Premium support packages, or call on our Professional Services to ensure that you derive maximum benefit from your Kaspersky security installation.
White Papers
Learn more, with thought leadership from our globally recognized cybersecurity experts
The Threats
Email remains the number one route into attacking and disrupting any major organization. Your choice of email security solution largely dictates the likelihood of:
Ransomware attacking through an infected email or attachment

Systems penetration as part of an APT

Phishing scams, defrauding your employees and your business

Time-wasting, resource-hogging spam

Time-wasting 'false positives' generated by over-automated anti-spam

Abuse of trust and Business Email Compromise (BEC)
Let's start the conversation! To talk to one of our experts about how True Cybersecurity could inform your corporate security strategy, please get in touch.