Last week, Kaspersky Lab's student conference "Cybersecurity for the Next Generation" in Ecuador came to its conclusion. The program committee chose the three best papers from six presentations, with a final decision from the committee giving two participants (instead of one) the opportunity to go to the finals in the UK this June. One of the participants, Galoget Latorre, received a special prize for Best Presentation Skills from Jose Rivera Costales from Universidad San Francisco de Quito, a member of conference`s Program Committee.
Originally, only one participant was to be sent to the finals. However, the program committee decided to give a second invitation to Johanna Malla to present her research in the UK as her paper showed both practicality and insightful security concerns for Bluetooth technology.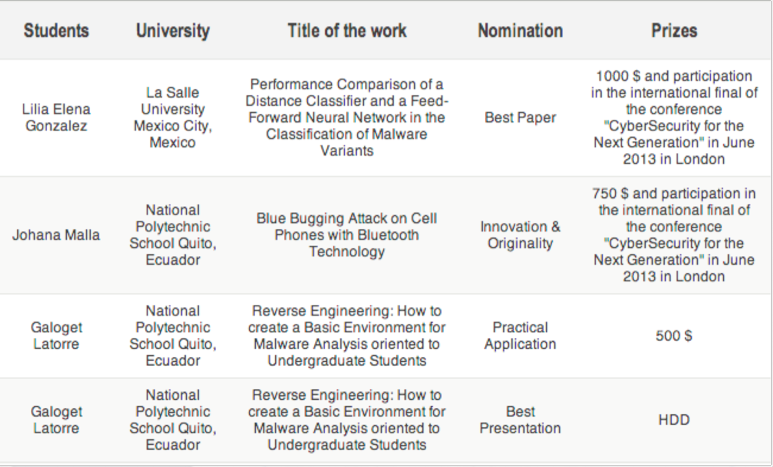 We spoke with Lilia Elena Gonzalez, winner of the Best Paper Award, about her feelings on winning and her plans for the future. Lilia said, "I feel really very happy and grateful to Kaspersky Lab and National Polytechnic Institute of Ecuador for giving me the chance to present my work because it took a very long time to complete. I did not expect to win. I hoped that I would place among the three best works. I do not know how I'm going to spend my prize – maybe I will buy a new license for the software I use or I will put the money in my bank account to eventually buy my own apartment. We'll see!"
Congratulations to all the winners and participants!
Check out some of the photos from the conference to see how it went: