The Apple mobile platform, and the whole ecosystem built around it, is way ahead of its rivals predominantly because it has a very high level of security: strong verification of every app added to the App Store, tight restrictions on programs' functions within the operating system, automatic backup of all data from the device to the cloud — all these things make iOS quite comfortable and safe to use. But it only goes this way if you have things which can be done with default features and services; when you face non-standard tasks, like protecting your photos with a password, you can't count on iPhone because there are no relevant apps pre-installed. However, thanks to Apple, you can always go to the App Store and find an application that does exactly what you need. As they say: whatever you need or want, there's an app for that.
Last week, we had a look at private messengers; today, we decided to compile a list of good apps to protect you, your iPhone and its content.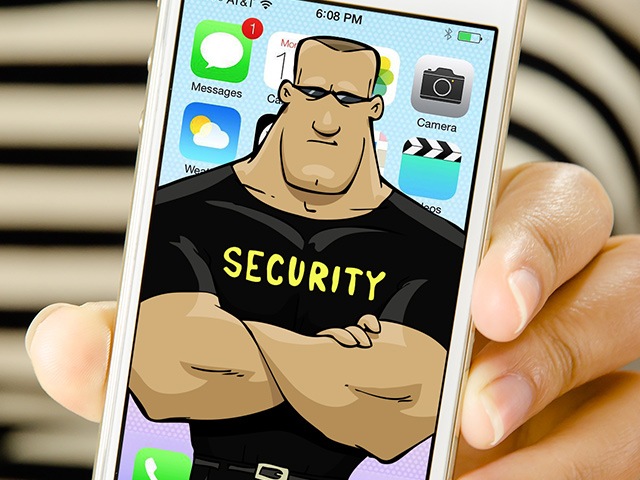 1password
AgileBits
$8.99
24.8 MB
Almost every article about the best security apps mentions this password manager. It's not surprising: 1password is one of the most popular, powerful and easy apps for creating, storing and managing your passcodes. And it's not just for passwords; it can store info about your credit card, bank account, private documents, membership cards: you name it. All you need to get to your protected data is to enter a master password — the only passcode you'll have to remember. It's best to make it strong, and remember it well, as it keeps all your secrets in one place.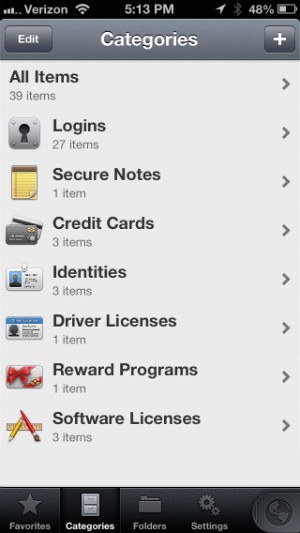 Last week, we had a look at private messengers; today, we decided to compile a list of good apps to protect you, your iPhone and its content.
By the way, 1password is not an iPhone-specific app. AgileBits developed versions for every major platform, including: Android, Mac OS and Windows. And they can be synchronized, which is very useful if you are using more than one device on a daily basis. On the bad side, you'll need to pay quite a lot for all that stuff: the iPhone app will cost you $8.99 while it's on sale, and you'll need to pay even more for the desktop version. Plus, you will have to do it every time there's a major update — that's the price for one of the best multi-platform password managers.
Find My iPhone
Apple
Free
5.1 MB
Several years ago, you couldn't even think about finding your lost iPhone as it was impossible to track it. But today, it's a completely different story. If you have the Find My iPhone app installed on your smartphone, your chances of finding it are pretty good. It's simple: the activated app sends the iPhone's coordinates to Apple's servers using GPS, cellular networks and WiFi if possible. The owner of the device can get those coordinates, any time, just by going to the iCloud web site or using the Find My iPhone app. Of course, you'll need an Apple ID for that, which you definitely have, as long as you have an iPhone or any other Apple device.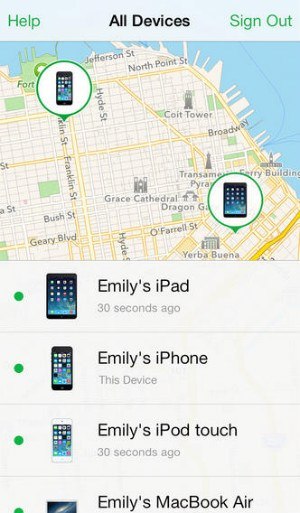 The service can let you not only track your lost smartphone but block it remotely and send a message which will appear on its screen. For example, something like:
'Thanks for stealing my old iPhone 4s. Now I have a perfect excuse to buy a new iPhone 6!'

Tweet
Of course, all these features are only available if the phone is turned on and has an internet connection. Unfortunately, without it, there's just no way to transmit data from you to your iPhone and back. So, in some situations you can rely on the app, but it's better to be a bit more cautious and keep your smartphone close to you.
Kaspersky Safe Browser
Kaspersky Lab
Free
18.9 MB
The growth of cyber threats targeting mobile devices has grown hand-in-hand with the increasing ubiquity of mobile devices in our everyday lives. The Kaspersky Safe Browser for iOS app is designed to protect devices that run on Apple's mobile OS; protecting users from the latest mobile threats while simultaneously offering a set of parental safeguards to restrict the mobile-based Internet activities of children. The new app is designed to specifically protect against phishing scams, especially those that revolve around the use of fake sites. The app allows users to filter web content; they can choose which categories of sites should be blocked, such as pornographic sites, pages containing obscene words or scenes of violence, gaming sites, social networking sites and so on.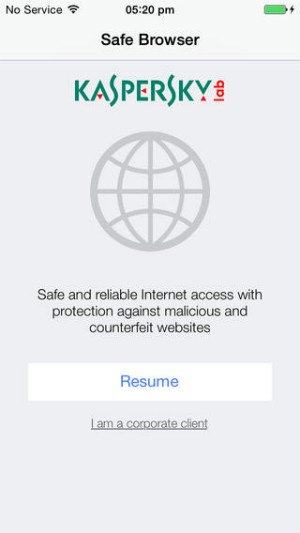 By the way, the app evolves as quickly as cybercriminals do, because it is constantly updated with solutions to the newest threats through the cloud-based Kaspersky Security Network, which contains threat information collected worldwide and updated in real-time.
Private Photo Vault
Legendary Software Labs
Free (In-app purchase)
13.7 MB
It's really hard to find somebody who wouldn't like to protect part of their smartphone's content with a password just to be sure nobody will see private data while browsing the phone. I bet many iPhone users would like to use a feature that gives them the opportunity to protect their photos with a passcode. There's no dedicated functionality in the Photos app, but there are a lot of third party applications giving you that ability. One such application is Private Photo Vault, and it does exactly that: it can protect some or all of your photos and videos with a password. To do that, you'll need to transfer all the content into the app, but that is not very difficult.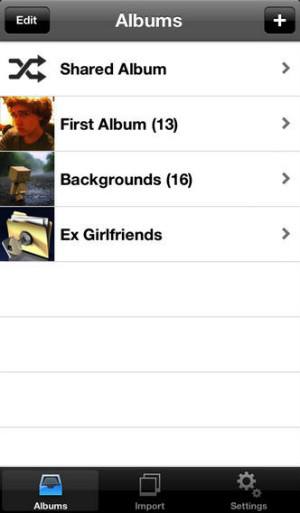 There's an interesting feature called Decoy Password, which can be useful in case somebody's watching you enter the passcode. There's also iTunes syncing and break-in report available for users. The free version of the app lacks some functionality and contains ads, but you can upgrade it for $2.99.
Philips InRange
Philips Consumer Lifestyle
Free (additional hardware needed)
2.8 MB
Philips is famous for its innovations, especially when it comes to home electronics. In recent years, the company has made a huge effort to integrate almost everything it makes with mobile devices, including the iPhone. One good example is Philips InRange — a small bluetooth-enabled device which alerts you if you leave your valuables behind and helps you find them when misplaced. So the app, designed to work with Philips InRange, works like this: whenever the InRange and iPhone move outside a set range of each other, you will be automatically alerted. The range can be set as you want, but don't forget bluetooth only works within 10-20 meters. It's the perfect gadget for your home; just put the device inside our wallet, and you will be alerted every time you go outside without it. Plus, it works both ways: you can also find a paired iPhone by pushing a button on the InRange device.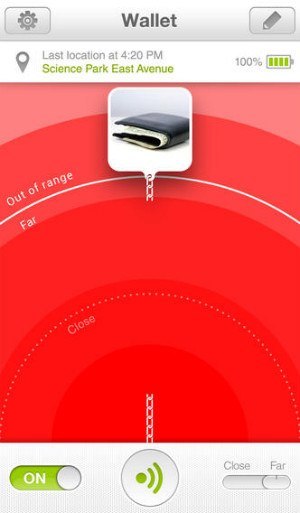 At the same time, there are some cons. First, the InRange bluetooth device is quite big because of the internal battery, so it might be difficult to place it, say, in a small wallet. Second, the device is not very cheap: you can find it in stores for $65 or more. From the other side, this little thing can save you way more than that, so maybe it's a good price for keeping your keys or wallet safe.
Silent Phone
Silent Circle
Free (additional subscription needed)
8.7 MB
As you might remember, we were talking about secure messengers last week and mentioned the Silent Text app, which is a part of the Silent Circle project. Here's another application from the same guys — Silent Phone. It allows you to send and receive encrypted video and audio messages using peer-to-peer connection. That means the service doesn't use any servers to store or transfer your messages; everything just happens between the devices. The application's design cannot be called perfect and will take you some time to get used to, but it does the job well.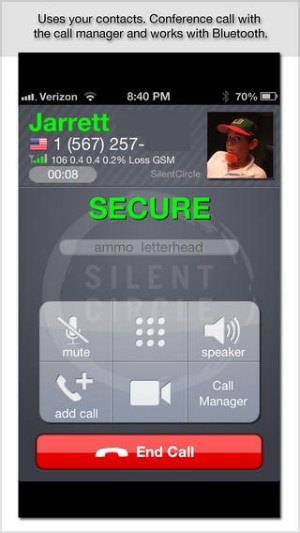 There are some negatives, though. First, the service is not as popular as Skype or even Viber, so you probably won't find many friends connected to Silent Phone. Second, although the app is free, you still need to pay for a Silent Circle subscription, which is $9.95 a month or $99.95 a year to use its mobile services, including Silent Text. If you want to make calls to stationary or mobile phones from Silent Phone, be ready to pay $23.95 a month. Quite a lot, isn't it?
TunnelBear VPN
TunnelBear
Free (additional subscription needed)
30.7 MB
If you are a frequent visitor to our blog, you might know what VPN is for and why it's a must if you're using unknown WiFi hotspots. While the iPhone has good VPN features, you can't use it until you have a server to put your traffic through. Of course, you can use free services which are just a couple of clicks away, but free VPNs often have very slow connection speeds and servers that can be offline for hours. Is that the kind of security you need? If not, there are still a lot of affordable VPN services like TunnelBear.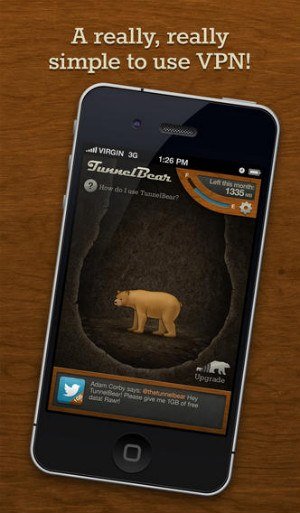 The main thing about the app is its simplicity. Even if you never had a chance to deal with VPN stuff, there will be no problem doing it within TunnelBear, as it has detailed instructions and an easy-to-use interface. There's also a very funny bear you'll like a lot. The pricing is quite decent: $4.99 per month and $49.99 per year. Or, if you only need to use VPN once or twice a month, you can do it for free because TunnelBear gives you 500 megabytes of free data each and every month. Good deal.
—
In all fairness, it must be added that iOS becomes better and stronger, in terms of security, with every major update. So some of the listed apps will probably lose their battle with the next iOS releases. Anyway, right now, these applications are very good and worth exploring. Don't forget, however, that the best application to make your iPhone secure is you. Be careful and take care of your beloved smartphone.