Kaspersky Lab is presenting at this GITEX 2014 in Dubai, which is the most important technology event in the Middle East with huge attendance.
Senior Security Engineers from Kaspersky, Sergey Nivogov and Mohammad Amin Hasbini, are making daily presentations to increase awareness of latest cyber threats in the region, along with provided solutions. In an interesting insight, Hasbini has stated that UAE and KSA are most attacked countries in the region, followed by Egypt. On the other hand, KL products neutralized more than 59.2 Million cyber-attacks and malware infections on computers and mobile devices. The number of mobile infections reported during Q3 2014 is 3.5 times higher than Q3 2013, while the number of Banking Trojan incidents recorded during Q3 2014 is twice the number in 2013.
From his side, Senior Security Consultant, Amr Ismail, featured the Kaspersky Fraud Prevention Mutli Layer solution, as all KL solutions are made from scratch and integrated altogether, covering all layers: endpoint, risk based clientless engines, intelligence services, mobile KFP SDK "Software Development Kit", Can be integrated inside banking mobile applications to provide all security layers needed. He also stated that financial threats are targeting Middle East users for the lack of knowledge and awareness of these threats.
Senior Security Engineer, Amin Hasbini, warned from the new banking malware Luuuk and Tyupkin, which was found recently in Turkey. For more details about this dangerous malware please read this article: http://bit.ly/1yJrOg2.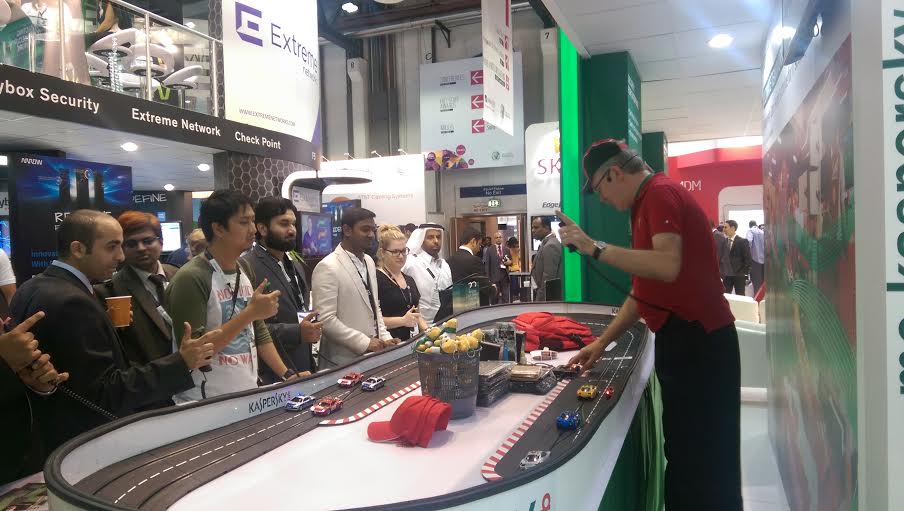 On a light side of the event, Kaspersky is hosting daily FERARI show where car lovers can play some cool games and races, and get interesting giveaways.
See  you at hall number 1 ! 🙂