Just ten days after the remarkable Google I/O event, Apple is holding its own developers conference in the same place, Moscone Center, in San Francisco, CA. Traditionally, WWDC is focused on software and not hardware. That's why there was no point in expecting any new iPhones, news iPads, new MacBooks, and so on.
Instead, the Fruit Company has announced new operating systems for all above-mentioned devices: OS X 10.11 'El Capitan' for Macs, iOS 9 for mobile and watchOS 2 for wearables. Final releases of these OSs are expected in the fall at the same time as the release of new Apple gadgets. And now Apple offers beta-versions for developers (though you don't need to be an actual developer to try it).
All the OSs have a lot of improvements, including new interface features and use cases, but we are not going to make a full list: lots of media have already done that. We're going to focus on security and privacy instead.
With that in mind, the first thing you'll want to know about is the much more powerful and deep search algorithms Apple is using for Siri and Spotlight — in iOS 9 and OS X El Capitan, respectively. This new feature has a lot in common with Google's Now on Tap new service: it takes context into account and can even foresee what hints and search results users may want to obtain in given circumstances.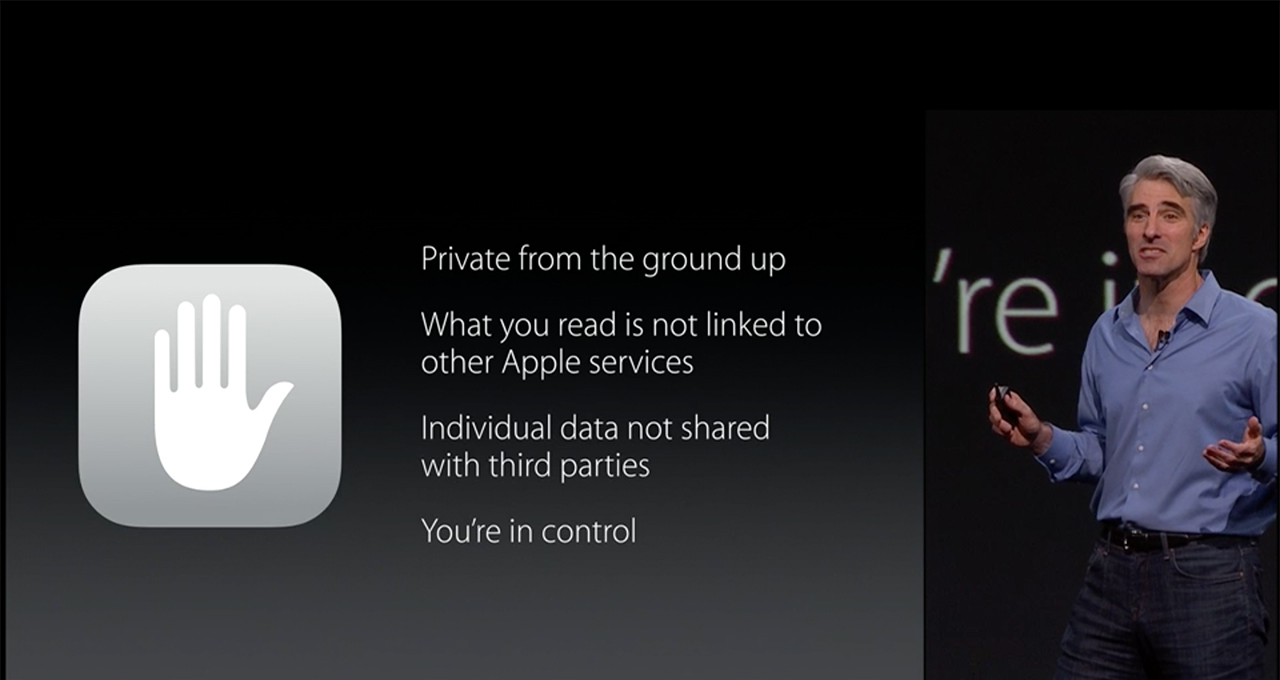 Apple specifics that it doesn't collect any user data for its own purposes. All that is important in this case is gathered in the picture above. And if you want to learn more about Apple's current viewpoint on security and privacy, you can read what Tim Cook recently said in his blistering speech.
10 best quotes from Tim Cook's recent speech on privacy and security https://t.co/x70mvY7BQZ #Apple #CyberSecurity pic.twitter.com/mcFfLJh4kQ

— Kaspersky Lab ME (@KasperskyME) June 10, 2015
All the technical details always stay off-camera at Apple's keynotes. Nevertheless, the company has already announced some new security-related features you'll probably like.
First, its new password requirements: Instead of very weak 4-digit passcodes Apple is going to use 6-digit passcodes by default. It's not hard to calculate, that new passcode format gives a hundred times more possible combinations than the old one: 1,000,000 instead if 10,000. And it's obligatory: new OSs won't let you continue until you make a 6-digit passcode or even stronger alphanumeric password.
#WWDC15: new #security features by #Apple

Tweet
With new OSs developers will have new tools for implementing VPN and proxy-enabled connections, as well as new traffic encryption and traffic filtration tools. With all these extensions developers will be able to create more secure apps and probably some new powerful ad and tracking blocking apps.