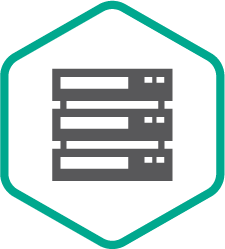 Kaspersky
Network Attached Storage Security
Security for Network Attached Storages
Unified, fault-tolerant architecture
Minimal impact on NAS performance
Highly scalable storage security
Support for major data storage platforms

Kaspersky Security for Storage effectively protects Network Attached Storages (NAS) manufactured by EMC, NetApp, Dell, Hitachi, Oracle and IBM, as well as other ICAP-compliant and RPC-compliant storages.

'Always-on' storage anti-virus protection – plus on-demand scanning

Whenever a file is launched or modified, it's automatically scanned – suspicious objects are treated or deleted and quarantined for further analysis.

Cloud assisted security

Kaspersky Security Network (KSN) is a complex distributed infrastructure dedicated to processing cybersecurity-related data streams from millions of voluntary participants around the world in real time. KSN communicates directly with your Kaspersky Security for Storage installation, delivering the highest levels of protection through identifying and responding almost instantaneously to known, unknown and even zero-day threats, while generating the lowest rates of false positives.

Proactive anti-malware technologies

Kaspersky's latest anti-malware engine uses advanced techniques – including heuristic analysis – to deliver highest levels of anti-malware protection for storage.

Backup of suspicious objects

When a suspicious object is detected, it's placed into quarantine – and, before any actions are performed on the object, an unmodified copy is placed into a backup storage.

Flexible scanning

Kaspersky's flexible scanning processes help you to secure your corporate network and optimize the load on your servers. You can define a wide range of scan settings, including:

Setting the depth of anti-malware protection
Specifying which types of file must always be scanned
Specifying which types of file should always be excluded from scanning

Easy-to-use, centralized management console

Kaspersky Security for Storage is supplied complete with Kaspersky Security Center – a centralized management console that supports the remote installation and configuration of the product, and simplifies the management of day-to-day operation, updates and notifications.

A choice of management tools

You can manage Kaspersky Security for Storage either directly or remotely via the Microsoft Management Console or Kaspersky Security Center, or by using the command line. The console provides graphical reports on the protection status of your NAS equipment.

Administrator privileges

A choice of privilege levels can be assigned to each server's administrator – to help ensure compliance with specific security requirements.

Notification system

Administrator notifications – for an extensive range of events – can be sent via the messaging service or email. Kaspersky Security for Storage is integrated with Simple Network Management Protocol (SNMP) and can operate with Microsoft Operations Management (MOM).

Flexible reporting

Administrators can monitor operation, via graphical reports – or by reviewing Microsoft Windows or Kaspersky Security Center event logs. An integrated search tool supports filters – for quick searches of large-volume logs.
Kaspersky Security for Storage
Not sure which Security Solution is right for your business?