Kaspersky
Next Generation Cybersecurity for Business
Easy to use, ready to scale:
True Cybersecurity to protect against every type of threat your business faces.
On premise or in the cloud.
Protect your business with True Cybersecurity
Learn more
What our customers are saying
Gartner Peer Insights
Customer Choice
Award for
Endpoint Protection
Platforms – Platinum Winner
view all insights
Kaspersky - the right choice.
Excellent trusted partner, Kaspersky not only provide a market leading solution but back it up with excellent customer engagement and implementation support.
Learn More
The Gartner Peer Insights Customer Choice Logo is a trademark and service mark of Gartner, Inc., and/or its affiliates, and is used herein with permission. All rights reserved. Gartner Peer Insights Customer Choice Awards are determined by the subjective opinions of individual end-user customers based on their own experiences, the number of published reviews on Gartner Peer Insights and overall ratings for a given vendor in the market, as further described here www.gartner.com/reviews-pages/peer-insights-customer-choice-awards and are not intended in any way to represent the views of Gartner or its affiliates.
Pinpoint what you need
Where you need it
Targeted Security Solutions
Targeted Security Solutions offer a cost effective way to put Kaspersky technologies precisely where you need them – as standalone solutions or to extend your Kaspersky Endpoint Security.
View All Solutions
Kaspersky Endpoint Security for Business
Additional information
KASPERSKY LAB DRIVING TRUE CYBERSECURITY FOR FERRARI
When you're one of the world's most iconic brands, driven by the most successful team in Formula 1 history and people's safety depends on the accuracy and availability of your data, you can't afford to take risks.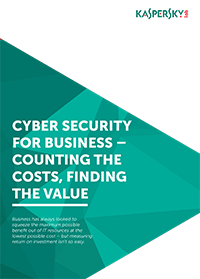 Take 10 minutes: insight on big decisions for small businesses
35 PAGES
An easy-to-read, inspirational aid for business leaders, the guide presents the personal perspectives of Kaspersky Lab execs on leadership, finance, risk, recruitment, innovation, competition and IT – with examples from the company's own history.
Not sure which Security Solution is right for your business?