Have you started seeing strange appointments or reminders in your iPhone's calendar app? If so, you might be worried that your calendar has a virus or that you've been hacked. In fact, what's probably happened is that you have been subscribed to a third-party calendar which is generating spam appointments. It's essential you don't click on any links within these appointments, since they could lead to malicious websites which infect your device and steal your information. To find out why you're getting these notifications and how to remove them, read on.
What is a calendar virus?
The terms 'iPhone calendar virus', 'iOS calendar virus' and 'app calendar malware' all refer to Apple OS spam that adds fake subscribed calendar accounts to a user's device without their approval. Affected devices could be iPhones, Mac computers or iPads. As a result of the spam, users receive notifications for events which contain suspicious or malicious links. These bogus events often contain alarming headlines and urge you to click on the links. Example messages might include:
Viruses on your iPhone?! CLEAN THEM NOW
Ensure Your Online Protection, Click Now!
Your Phone is not Protected! Click to protect
Clear your iPhone from Malicious Attacks!
Your iPhone Has Been Infected with a Virus! Remove it now
Sometimes, the notifications are more sales or prize-focused:
Who wants a Free Apple Music Subscription?
Congratulations, you won!
iPhone 13 is here, pick it up or rearrange delivery
Easy Short-Term Loans – Apply Online
Black Friday Sales – ACT NOW
It's your lucky day
You have (1) Pending Package
These messages are designed to provoke curiosity and a sense of urgency. They want to entice you into clicking through to explore what is being promoted. However, clicking through usually triggers a website script that delivers malware to your device or takes you to various phishing pages . Don't click or tap these links and avoid responding to an event by clicking accept, decline, or maybe, since doing so lets the sender know your account is active.
What makes bogus events, invitations, and appointments so annoying is their sheer quantity. In some cases, they can arrive several times an hour. Audio alerts can be especially intrusive if you have them enabled.
iPhone default settings allow users to receive calendar invites from anyone, even if they are not in your contact list, which makes it easy for spammers to infiltrate your calendar. Spammers and hackers know that most people don't expect spam in their calendar, so they are more likely to open it and less likely to be suspicious of the information and links it may contain. These could then be used to steal credentials and sensitive information or download adware or malware to your device.
Strictly speaking, an iPhone calendar virus isn't really a virus, although it certainly feels like one when you're being bombarded with unwanted and annoying spam notifications. The good news is that getting rid of iPhone calendar viruses is straightforward – as we explain later on in this article.
Where does the iPhone calendar virus come from?
So, how do you end up receiving bogus calendar invites in the first place? Calendar viruses rely on a combination of social engineering and malicious code. Here are the main ways you can fall victim to one:
Attackers have got hold of your email address
If a spammer knows the email address associated with your calendar account, they can send you deceptive calendar invites which contain infectious hyperlinks. It's relatively easy for spammers to get hold of your email address – this can happen if:
You enter your personal details onto dubious websites that covertly make money by selling your information.
A company that stores your email address suffers a data leak.
Apple's Calendar app is configured to allow anybody to send you calendar invitations by default. It is designed to be easy for members of the Apple user community to interact with each other. A drawback of this openness is that malicious actors may obtain user credentials, possibly from the dark web in the aftermath of a data breach, and then orchestrate a spam campaign featuring fake event descriptions which contain phishing links.
You inadvertently clicked on a malicious link
You might also be tricked into subscribing to a calendar on suspicious websites. Fake calendars can sometimes be disguised as captchas. Captchas are the simple puzzles which websites ask you to complete to prove you are not a bot. Sometimes scam websites display fake captchas designed to bypass warnings from your browser and make you press certain keys that trigger malicious downloads. In these cases, clicking the "I'm not a robot" box, or anywhere else on the page, can trigger a prompt to subscribe to a calendar. To trick you, the calendar name is blanked out. If you are rushing to get through the captcha process, you might click OK. Now the criminals can send you bogus calendar events containing suspicious links.
Receiving a spam link by text message
You may receive a spam text – for example, a delivery spam message asking you to track a parcel and providing a link. As soon as you click on it, you end up subscribing to a calendar that fills your iPhone with appointments for things like critical threats and other warnings.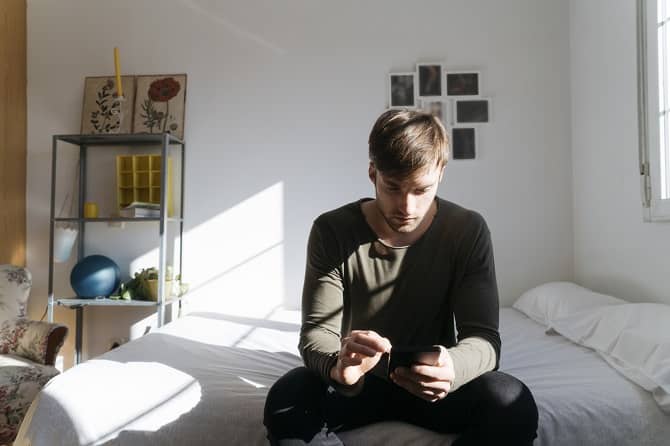 How to get rid of the calendar virus on iPhone
Apple's products are interlinked, so if you receive spam in your iPhone calendar, it will most likely appear on your other Apple devices too. The following tips should help you get rid of calendar spam on your iPhone, iPad, Mac and anywhere else.
To clear your device from malicious calendar attacks, you need to complete several removal steps. Since you may have signed into your iCloud with the same Apple ID on all your devices, you may need to check and clean all of them.
For newer iPhones:
Go to Settings > Calendar > Accounts
Look for any account that you don't recognize and delete it. The calendar virus account name might be something like "Calendar Events", "Events Calendar" "Calendar Events Viewer" or something similar
Remove any calendar accounts you don't recognize
Once removed, your events should be normalized
This should be sufficient to stop the fake appointments and reminders from appearing on your calendar.
For older iPhones:
Open the Calendar app
At the bottom of the screen, tap Calendars
Look for a calendar that you don't recognize. Tap the More Info button next to that calendar, then scroll down and tap Delete Calendar
For your Mac:
Open Calendar (or iCal)
Click Calendar in the menu bar and choose Preferences
In the General tab, select only the calendars that you want to use from the Default Calendar menu
Click save
Make sure that calendars you don't recognize or want to use are not selected or saved, this will remove them

On iCloud.com:
Go to Calendar > Click the gear icon > Preferences
Select only the calendars that you want to use from the Defaults menu
Click Save
Make sure that calendars you don't recognize or want to use are not selected or saved
How to stop iPhone calendar spam
Follow these tips to minimize the risk of malware on your iPhone calendar or calendar viruses:
Block pop-ups in Safari
On your iPhone or iPad, go to Settings > Safari and turn on Block Pop-ups and Fraudulent Website Warning. On your Mac, you can find these options in Safari > Preferences. The Websites tab includes options to block some or all pop-up windows, and you can turn on Fraudulent Websites Warnings within the Security tab.
Be careful where you click
Avoid clicking or tapping on links or opening attachments in unknown text or email messages. Additionally, be careful when interacting with captchas. If you do receive a fake calendar notification, don't interact with the appointments in any way other than to delete them. Never click on any links or other active sections of the appointments. If the appointment arrived via a text in the Messages app, delete it by swiping from right to left and choosing Delete. Your iPhone may ask if you want to Report Junk, in which case it's a good idea to do so.
Review and change your calendar settings
One of the best ways to minimize calendar spam is by preventing notifications. It is also sensible to ensure that none of your devices are set up to auto-accept calendar invites. Although this setting can be convenient for busy people, it can be used as a vulnerability to insert unwanted spam into your calendar. To change your calendar settings:
Sign into your iCloud account and select Calendar
Click the gear symbol in the bottom left-hand corner of the app screen and select Preferences
Hit the Advanced tab
In the subsection called Invitations, click the radio button next to the "Email to [your email address]" option to make this setting your default one instead of "In-app notifications"
Be selective about sharing your email address
Since anyone with your email address can send you calendar invites, think carefully about who you share your address with. You may want to create a 'burner' email address to be used for sharing. This will not be connected to your primary account and therefore spam will go there rather than clogging up your day-to-day emails.
Use a VPN

Using a VPN can enhance your security. Kaspersky VPN Secure Connection is designed to work well on iPhones and iPads and encrypts your data while browsing, so nobody can intercept data that you send or receive.
Recommended products:
Further reading: