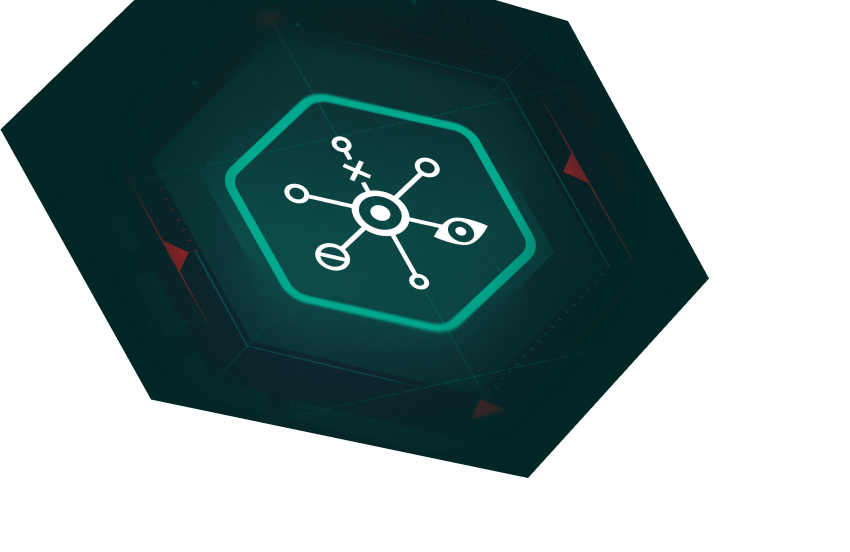 Product
Kaspersky Endpoint Detection
and Response Optimum
Uncover evasive threats
Detect and investigate in a simple environment

Be proactive
Rapidly respond to threats across endpoints
Overview
Evasive threats are cheap to mount, but can result in serious losses. Limited visibility and lack of resources play into the attackers' hands. Kaspersky Endpoint Detection and Response (EDR) Optimum delivers advanced detection, simple investigation and automated response in an easy-to-use package, to protect your business against the latest threats.
Top features
As a research-driven company, Kaspersky's focus is always on delivering the technologies our users need rather than hyped-up applications.
Essential EDR functionality
Start building your incident response capabilities with simple, automated EDR features.
Clear visibility – discover threats on endpoints

Avoid getting stuck in the black box – get vital information on automatic detects and find lurking threats with Indicators of Compromise (IoC).

Simple analysis – investigate the full scope

Perform root cause analysis in a single incident card to understand where a threat came from, how it developed and what it managed to do.

Automated response – act quickly to avoid damage

Use easy 'single-click' actions to prevent threats from spreading – and automation to respond to threats on discovery.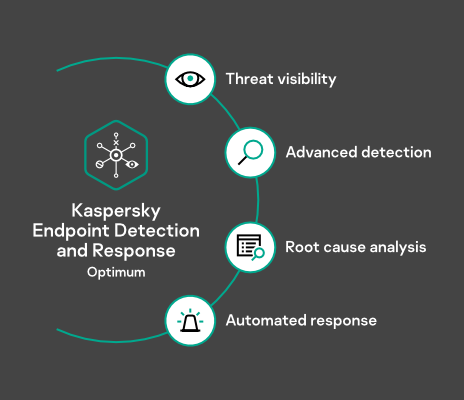 Cloud native solution
Raise security efficiency and ease deployment without adding IT complexity.
Delivered from the cloud

Adapt to your environment with cloud and on-premise deployment options and centralized unified management.

Secure cloud workloads

Enhance your cyber defenses for virtual and physical servers, VDI deployments and public cloud workloads with essential EDR functionality.

Save resources

Make full use of available security bandwidth and start building your essential incident response processes with a simple, centralized, streamlined tool.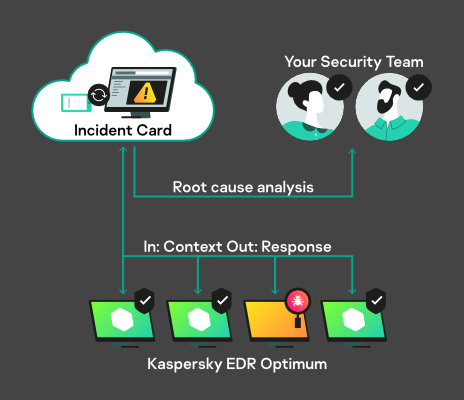 Recognition
Kaspersky products are regularly assessed by world-leading research firms. Stemming from this, our ability to help companies and customers protect themselves and thrive in the face of change has been widely recognized.
Use cases
Quickly find out if you're under a new attack
With Kaspersky EDR Optimum you can import the IoCs of the latest attacks from external sources like
securelist.com
, and run periodic scans across your infrastructure to discover and respond to threats instantly. The same can be done when a regulatory authority requires scans for specific indicators.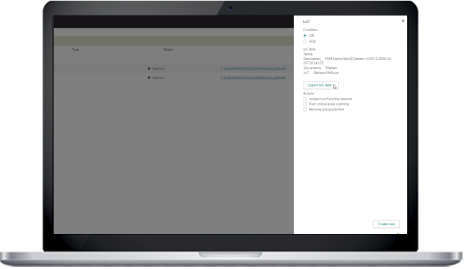 Find out if the threat is more than you thought
Once a threat is automatically detected and remediated, you might want to take a closer look at it. When it comes to evasive threats, often detectable payloads are dropped by inconspicuous parent processes, which can cause significant damage if undetected. Investigation tools allow you to quickly analyze detects and find their true root cause.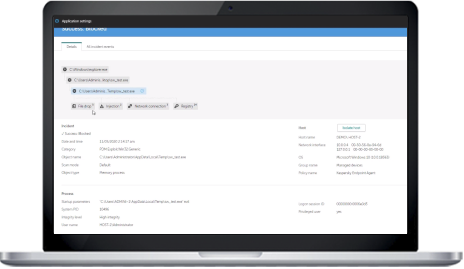 White Papers
Learn more, with thought leadership from our globally recognized cybersecurity experts
Boost your defenses with Kaspersky Optimum Security
Build on from Kaspersky EDR Optimum with Security Awareness training, advanced detection with Sandbox technology – or opt for managed protection with Kaspersky Optimum Security.